What are the substitutions
During the substitution, the substitute gets access to selected apps that the replaced person had access to. As a substitute, you can perform actions in available apps. If someone has set you up as someone else's substitute you will receive an e-mail notifying you about it.
How to set up a replacement
You can do this two ways:
1. Via the substitutions tab in the profile; you can set up a replacement for yourself.
You must select a substitute and the start and end dates for the substitution. You can also choose to which workspace the substitute will have access to (at the beginning you can see the default only option, about how to select workspaces and applications later in the article).
2. Through the admin panel; you can set up a replacement for any person (you must be an administrator).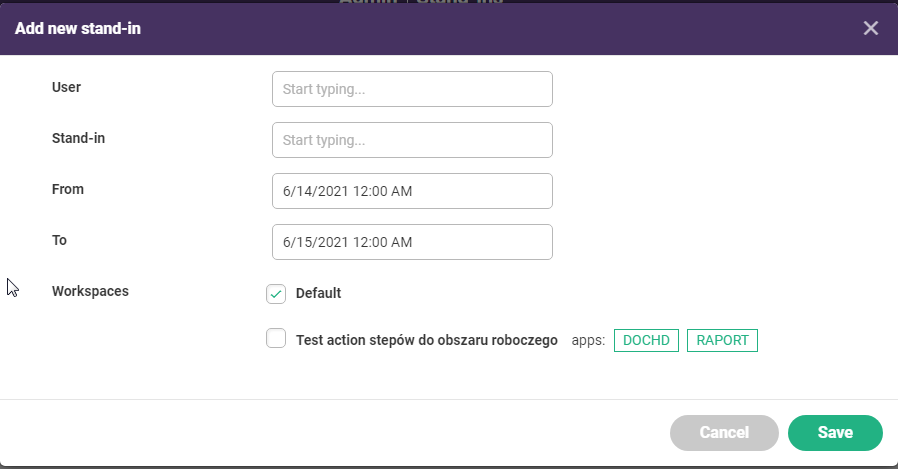 In this method, in addition to substitute, the start and end dates of the substitution, and the workspace, you must specify the person to be replaced. When you set up a substitution for someone, the replaced person will get an email alerting them.
How to choose which apps the substitute has access to
In the info tab in the app's options there is an option: 'stand-in mode', thanks to it you can choose what the app will be like:
1. default - the app is available to a substitute when the default is selected in the workspaces (like in screen above)
2. per workspace - when the app is assigned to the workspace, you can make the app in a given area available to the substitute (the second option in the screen above; the apps that the deputy will have access to are listed in green)

Aby ta funkcja działała rubryka obszar roboczy musi być wypełniona przez istniejący obszar roboczy
3. excluded - The app is not available for substitute at all (for example, there may be restricted data that the substitute cannot see)
After selecting, activate the app to save the changes.