Button allows you to perform global actions and actions that operate on sections. It gives you the possibility to add multiple actions to be triggered at the same time.
All modifications of the operation and the appearance of the button are possible through the button options window, available when you select button in the designer.
After selecting the button, the properties window will appear on the right side of the screen: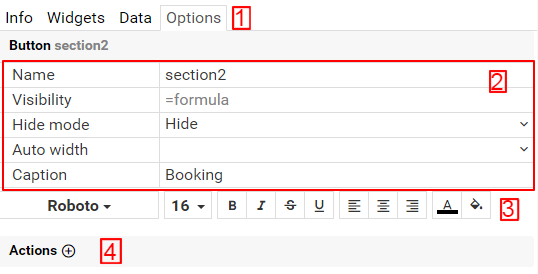 Options tab allows you for a smooth transition between the other designer tabs
Button section settings allow you to configure the information about the section name, visibility, hidden mode, auto wide and visible caption on the added button.
Available formatting settings allow you to change the color, font type and size, manipulation of the text, change the color of the button, and caption alignment options.
Clicking add action button allows you to add, select and configure button actions.
Available actions that can be triggered when you click the button:
To add action to the button, select it on the application designer (1), go to the options of the widget, and then add the action by using add action button(2). Selecting the type of an action is possible by clicking on the drop-down list (3), to remove an action click delete button (4).