Attachment widget allows the user to add attachments to qalcwise app document.
This section has one specific option: caption.
Attachments can be added to it on mobile devices directly from the camera.
Attachments on app document are visible on user workboard (screenshot no 5).
'Hide on workboard option allows the user to make the decision whether the elements added to sections should be visible on the workboard when creating the app.
In 'file names only' option the user decides whether the added attachments should be visible only as their names or as a miniature.
In 'attachments limit' field we can give the maximum number of attachments which can be added in a certain section; by default there is no limit.
In 'scale to width' and 'scale to height' fields the user can give size to which he wants the picture to be scaled to.
Attachment section definition
Attachment section preview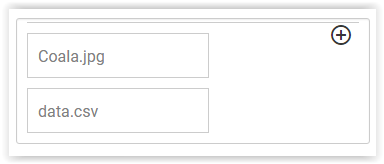 Attachments on app stripe, user workboard