Workflow actions are transitions between states, to create a new Action click and drag the arrow icon in the top right corner of a selected state.
Workflow Actions appear as action buttons on an App document (see Workflow Actions widget).
There can be one or more Actions with the same name pointing to different states. In this case the Execution condition decides which action will be executed.
Action configuration: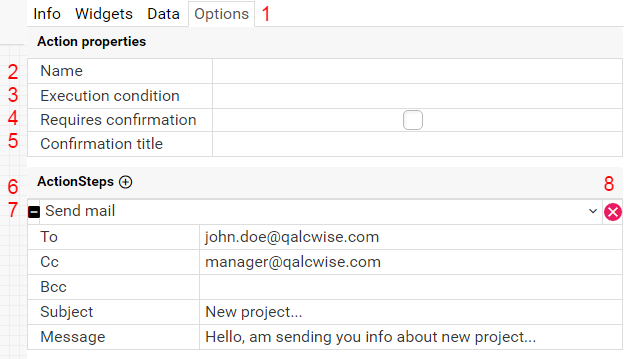 Options tab - click to go to configuration state or an action.
Name - action's name displayed on a button in "Workflow actions" widget
Execution condition - condition specifying when an action can be executed by the user. Can be calculated with a formula, which returns value 'true' or 'false'. If you create many actions with the same name and different execution conditions, they will be displayed as a single button in the workflow actions widget.
Requires confirmation - if you set this option, user will be asked for typing a short message to confirm action execution, when he clicks on workflow action button.
Confirmation title - message displayed when a user has to confirm the execution of a workflow action.
Add action steps - add an action that will be performed during the transition between states. Read more in Workflow ActionStep article.
Select action - select and configure the action to be performed.
Delete action - delete the selected action.